Course Code: CRS1400607 | CRICOS Course Code: 0100123
WHY STUDY THE BACHELOR OF BUSINESS?
The Bachelor of Business at Adelaide Institute of Higher Education will ask you to consider the challenges of contemporary global business environments and encourage you to develop knowledge and skills to embrace cultural diversity and recognise it as an asset to business and the broader community.

Knowledge and skills in business management and operations will be developed to make a start in any business-related career and you will grow your awareness of theories and regulations that impact business practices and decision making.
The Bachelor of Business provides a broad-based undergraduate business education that prepares you for a multitude of business contexts and roles. Students can also choose to incorporate a Marketing Minor in their studies to improve their future opportunities in marketing and customer service related roles.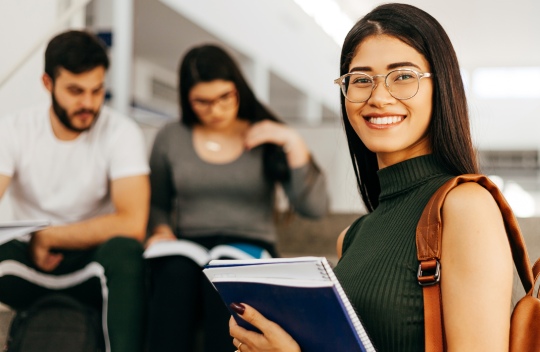 Duration
3 years full-time study or 6 years part-time study.
A full-time study load consists of 8 subjects per year. Two Marketing subjects are already studied in the core, so students who choose to, can study two Marketing electives to complete a Marketing Minor.
Applicants
✓ Available for domestic students
✓ Available for international students
Structure
16 Core Subjects and 8 Elective Subjects
Total Course Credit Points
120
2024 Study Period (SP) 1: 4 March
2024 Study Period (SP) 2: 1 July
2024 Study Period (SP) 3: 28 October
Domestic Student Tuition Fee: $16,000 per year
International Student Tuition Fee: $21,000 per year

For a schedule of the current AIHE fees and payments, please check our Fees Page.
AIHE provides a range of scholarships to students each year, please refer to the scholarship information for current availability.
Note: International students are required to undertake full-time studies.
Academic Requirements (All students)

Satisfactory completion of Australian Year 12

 or an international equivalent is required. International applicants should refer to the list of overseas qualifications accepted by AIHE for entry into the Bachelor of Business degree.
Learn more about the ways you can meet this criteria by viewing our Admissions Criteria.

English Language Requirements (Students with non-English native language)

IELTS (Academic) 6.0 overall score with no band less than 5.5 or equivalent.
Learn more about the ways you can meet this criteria by viewing our Admissions Criteria.

Entry Pathways
AIHE accepts various post-graduate entry pathways for this course. Learn more about the various pathways by 
contacting us
.
The Bachelor of Business is offered in 3 Study Periods per year.
Please click here for more detailed subject descriptions.
ACC1001 Accounting for Managers
ECO1001 Business Economics
BUS1001 Language in Business
BUS1003 Business Mathematics and Statistics
BUS1002 Perspectives in International Business
MKT1001 Marketing Fundamentals
FIN2001 Business Finance
LAW2001 Australian Business Law
BUS2002 Understanding Contemporary Organisations
BUS2001 Careers and Networking
BUS2003 Managing Across Cultures
BUS3003 Business Research
BUS3001 Corporate Social and Environmental Responsibility
BUS3002 Work Integrated Learning
BUS3004 Business Models, Innovation and Entrepreneurship
MKT3001 International Marketing
Seminars, lectures, group activities, case studies and practical support sessions.
Includes, but is not limited to, group and individual assignments, exams and tests, role plays and participation, quizzes and presentations.
Credit Transfer and Recognition of Prior Learning (RPL) available on application.
Apply for admission
If you are unsure how to apply or have other queries, please get in touch at 
info@aihe.sa.edu.au